Peter Gabriel warns Womad may have to cancel
2021 Music Festival News
With the pandemic lockdown measures starting to lift in various countries across the world, musicians and music-fans have been looking forward to being able to watch live music again.
And with the summer months upon us, the hope and expectation around music festivals have grown.
Peter Gabriel has today warned he may have to cancel this year's Womad festival, unless the government helps organizers get insurance.
The musician's world music festival has been running for 40 years. This year's event is scheduled for July, just three days after Covid restrictions are due to be lifted in England. 
Without insurance, said Gabriel, there is a "risk of losing everything" as music festivals have to invest funds in setting up the event before it takes place.
The initial response from the government in the UK stated that they had already provided money to support arts and culture, the Department for Culture Media and Sport (DCMS) said: "We are doing everything we can to get them open and cultural events are included in the next round of bigger test events. We are aware about insurance concerns and looking at this for when live events can open safely and permanently."
Viewpoint
There does, however, seem to be some disparity – with sporting events like Wimbledon, Ascot and the Euros going ahead, music fans are still facing restrictions.
We share Gabriel's frustration when today, he said: "If we're doing these test events and we're doing the Euros or Ascot, let's give the festival sector a chance too. Maybe it's a different sector of the population, but they deserve a go at this as well."
We feel his suggestion makes business sense. Gabriel, who started out as the lead singer in Genesis before launching a solo career, noted that the government could "actually make money" by acting as insurance brokers, especially if the events go ahead.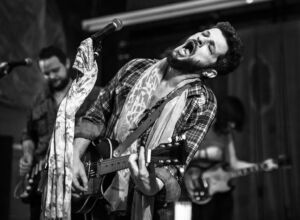 Many of the personalized song artists on tuneriver.com (like Matt Mackey shown here) have performed at music festivals before which have helped them financially, helped them gain exposure, kudos and to reach new fans.